Mon, Apr 9th, 2007
1:32am
I was confirmed at St. John the Apostle Catholic Church on Saturday, April 7, 2007 (Holy Saturday). Here are the pictures:


Me with my parents: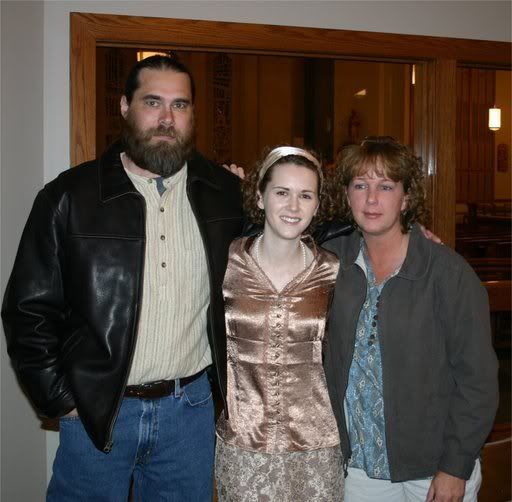 My dad (in the leather jacket), Joe - my confirmation sponsor - (in the tie), and me:



Fr. Mike & me:



Joe & me:



So...I am now officially a full member of the Catholic Church. It's pretty exciting. April 7 is also the date of the birth of St. Francis Xavier, who was the co-founder of the Jesuit order.
"Faced with today's problems and disappointments, many people will try to escape from their responsibility. Escape in selfishness, escape in sexual pleasure, escape in drugs, escape in violence, escape in indifference and cynical attitudes. I propose to you the option of love, which is the opposite of escape."
*Navigation*
Profile
Friends
Icons
*Favorite Scripture Verses*
Matthew 6:25-27:
For this reason I say to you, do not be worried about your life, as to what you will eat or what you will drink; nor for your body, as to what you will put on. Is not life more than food, and the body more than clothing? Look at the birds of the air, that they do not sow, nor reap nor gather into barns, and yet your heavenly Father feeds them. Are you not worth much more than they? And who of you by being worried can add a single hour to his life?
Philippians 4:6-7:
Be anxious for nothing, but in everything by prayer and supplication with thanksgiving let your requests be made known to God. And the peace of God, which surpasses all comprehension, will guard your hearts and your minds in Christ Jesus.
James 5:14-15:
Is anyone among you sick? Then he must call for the elders of the church and they are to pray over him, anointing him with oil in the name of the Lord; and the prayer offered in faith will restore the one who is sick, and the Lord will raise him up, and if he has committed sins, they will be forgiven him.


*Favorite Prayer*

Act of Self Dedication:
Take O Lord, and receive my entire liberty, my memory, my understanding and my whole will. All that I am and all that I possess You have given me: I surrender it all to You to be disposed of according to Your will. Give me only Your love and Your grace; with these I will be rich enough, and will desire nothing more. Amen